Product Summary
The KA5L0380RYDTU is a type of Fairchild Power Switch(FPS), which is specially designed for an off-line SMPS with minimal external components. The KA5L0380RYDTU Fairchild Power Switch(FPS) consists of a high voltage power SenseFET and a current mode PWM IC. Included PWM controller integrates the fixed frequency oscillator, the under voltage lock-out, the leading edge blanking, the optimized gate turn-on/turn-off driver, the thermal shutdown protection, the over voltage protection, and the temperature compensated precision current sources for the loop compensation and the fault protection circuitry.
Parametrics
KA5L0380RYDTU maximum ratings: (1)Maximum Drain Voltage: 800 V; (2)Drain-Gate Voltage (RGS=1MΩ): 800 V; (3)Gate-Source (GND) Voltage: ±30 V; (4)Drain Current Pulsed (1): 12.0 ADC; (5)Continuous Drain Current (TC=25℃):3.0 ADC; (6)Continuous Drain Current (TC=100℃): 2.1 ADC; (7)Single Pulsed Avalanche Energy (2): 95 mJ; (8)Maximum Supply Voltage: 30 V; (9)Total Power Dissipation: 75 W; (10)Operating Ambient Temperature: -25 to +85 ℃; (11)Storage Temperature Range: -55 to +150 ℃.
Features
KA5L0380RYDTU features: (1)Precision Fixed Operating Frequency (100/67/50kHz); (2)Low Start-up Current(Typ. 100μA); (3)Pulse by Pulse Current Limiting; (4)Over Current Protection; (5)Over Voltage Protection (Min. 25V); (6)Internal Thermal Shutdown Function; (7)Under Voltage Lockout; (8)Internal High Voltage Sense FET; (9)Auto-Restart Mode.
Diagrams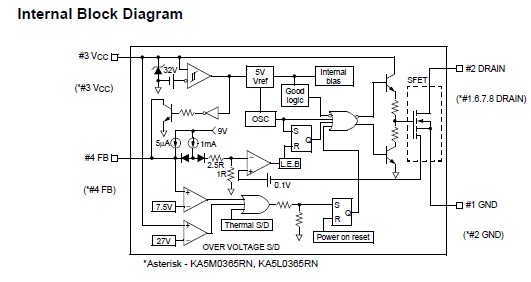 Image
Part No
Mfg
Description
Pricing
(USD)
Quantity

KA5L0380RYDTU

Fairchild Semiconductor

Switching Converters, Regulators & Controllers 3A/800V 50KHz Power Switch

Data Sheet



| | |
| --- | --- |
| 0-1: | $1.06 |
| 1-25: | $0.95 |
| 25-100: | $0.83 |
| 100-250: | $0.75 |

Image
Part No
Mfg
Description
Pricing
(USD)
Quantity

KA5L0165R

Other



Data Sheet

Negotiable

KA5L0165R/RN

Other



Data Sheet

Negotiable

KA5L0165RITU

Fairchild Semiconductor

Power Switch ICs - Power Distribution

Data Sheet

Negotiable

KA5L0165RIYDTU

Fairchild Semiconductor

Power Switch ICs - Power Distribution

Data Sheet

Negotiable

KA5L0165RL

Other



Data Sheet

Negotiable

KA5L0165RN

Fairchild Semiconductor

Switching Converters, Regulators & Controllers 1A/650V 50KHz Power Switch

Data Sheet

Negotiable