Product Summary
The STW45NM50 is a new revolutionary Power MOSFET technology that associates the multiple drain process with the Company's PowerMESH horizontal layout. The STW45NM50 has an outstanding low on-resistance, impressively high dv/dt and excellent avalanche characteristics. The adoption of the Company's proprietary strip technique yields overall dynamic performance that is significantly better than that of similar competitor's products. The application of it is switching application.
Parametrics
STW45NM50 absolute maximum ratings: (1)Gate- source voltage:±30 V; (2)Drain current (continuous) at TC = 25℃:45 A; (3)Drain current (continuous) at TC = 100℃:28 A; (4)Drain current (pulsed):180 A; (5)Total dissipation at TC = 25℃:417 W; (6)Derating factor:3.33 W/℃; (7)Peak diode recovery voltage slope:15 V/ns; (8)Storage temperature:–65℃ to 150℃; (9)Max. operating junction temperature:150℃.
Features
STW45NM50 features: (1)High dv/dt and avalanche capabilities; (2)100% avalanche tested; (3)Low input capacitance and gate charge; (4)Low gate input resistance; (5)Tight process control and high manufacturing yields.
Diagrams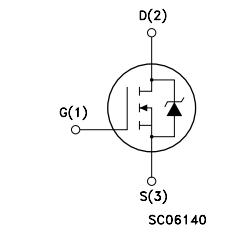 Image
Part No
Mfg
Description
Pricing
(USD)
Quantity

STW45NM50

STMicroelectronics

MOSFET N-Ch 500 Volt 45 Amp

Data Sheet



| | |
| --- | --- |
| 0-1: | $6.67 |
| 1-10: | $6.11 |
| 10-100: | $5.12 |
| 100-250: | $4.67 |


STW45NM50FD

STMicroelectronics

MOSFET N-Ch 500 Volt 45 Amp FDMesh

Data Sheet



| | |
| --- | --- |
| 0-1: | $5.78 |
| 1-10: | $5.17 |
| 10-100: | $4.55 |
| 100-250: | $4.49 |